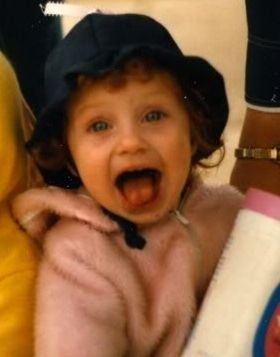 Name
: Anna Theurer
Blog:
The Chronicles of Ellie Bellie Bear
http://ellietheurer.blogspot.com
Blogger or Wordpress?
Blogger. I have entertained the idea of Wordpress and have even dreamed about switching over and yet, I still sit on Blogger because I am lazy. Er too busy running after my spider monkey toddler to actually sit down and make the move.
Favorite widget or plugin?
I am going to assume widgets are those things where I sneak into the blog's html code, add some semicolons and brackets, and then something wonderful pops up on the side bar? If so, I like the LinkWithin one for two reasons:
1. I actually manipulated the html correctly and got the widget to work.
2. It increases blog readership. Older posts of mine are still circulation thanks to this widget.
What's one thing that people don't know about you?
My blog reveals pretty much everything---Ellie's triumphs & antics, my fears, my shortcoming, my witty sense of humor (and my conceitedness apparently!). I played guitar in a metal band called "Kringe". We never performed live and we were not any good. I worked/volunteered in 3 different libraries in 3 different states (no, I do not have a degree in library science :-) while going to college and I worked in a school uniform store. I can name over 20 types of plaid.
While we are at it, what's your theme song?
For some odd reason I have a non-Wiggles song in my head--Queen's
Another One Bites The Dust
.
Dish you would bring at our community picnic:
I almost always bring drinks and dessert. You cannot accidentally give people food poisoning that way and every picnic needs chocolate!
On Blogging:
What got you blogging and what keeps you going?
When the Chunky Chicken was born, we were getting inundated with phone calls and emails. I felt as though I needed to call each and every single person back immediately. That is not good when you are tired, stressed, hormonal, and trying to keep a small little human alive. I started the blog to keep everyone up-to-date on my own time. The thing was, only my mother read the blog. None of Andrew's parents or even my husband would read it! They still don't read it. However, I have met many people through blogging and it is that amazing network that has keep me going. Blogging is a great way to vent and put words to your feelings and it is an added bonus when reader comment with support and advice. Also, I love sharing the awesomeness of Ellie. That girl has some serious spunk and attitude and the world must be warned!
One post (that you wrote) that makes you laugh?
Mother-Daughter Sabotage:
http://ellietheurer.blogspot.com/2013/03/mother-daughter-sabotage.html
One post you are really proud of, for whatever reason?
Moving Past the Shame:
http://ellietheurer.blogspot.com/2012/10/31-for-21-moving-past-shame.html
And because I feel that I should include one of my medical posts--When things go bonk, call the ambulance:
http://ellietheurer.blogspot.com/2013/02/when-things-go-bonk-call-ambulance-post.html
How have you seen your blog/blogging style change and how would you like to see it develop?
Being a pediatric nurse practitioner, I always included a ton of medical-based research in some of my posts as well as several photos of Ellie. That still continues, but I also started to write a lot about my fears. My fear for the future. My concern about Ellie not communicating. I started to write more about the r-word and other disability slurs. Plus, I started to advocate more for orphans with special needs in Eastern Europe. My blog really has no direction at this point and, honestly, I am not sure I want it to be about one thing.
Two blogs your love to read and why?
Nearly all the blogs I read are about Down syndrome because we have that many good writers out there, BUT since it is impossible for me to narrow it down to only two, I will give you non-Ds related blogs:
http://thumbinmouth.blogspot.com
This is a brutally honest blog about my friend's son, Jack who has tuberous sclerosis, seizures, and was on the ketogenic diet.
http://www.aquiltingsheep.com
Amy is constructs the most amazing quilts.
Where else can we find you online?
on Facebook:
http://www.facebook.com/stopdisabilityslurs
-Stop Disability Slurs
The Chronicles of Ellie Bellie Bear on FB
@EllieBearMama on Twitter
Anna Theurer on Google +